Chat is referred to a savoury tangy snack served usually as a street food in India. It can be a mix of fruits, spices, specially chat masala, lemon, tamarind and many other combinations. There are soo many types of chats, probably every city will have its own specialty. This Kachalu Alu Chat is a specialty from the Ancient and Historical city of Gaya.
Kachalu Aloo Chat is made with boiled potatoes and yam. You can even eat it during Navratras or fasting period. Since it is not fried you can eat it as a healthy snack. I made this for the first time and it was hit in my family. If you do not find kachalu or yam, you can substitute it with sweet potato. It will taste good with both root vegetables.
Directions:
1.Wash Yam and Potatoes and put them ina pressure cooker for 15 minutes or 6-7 whistles or until they are soft.
2. In the meanwhile julienne ginger into thin sticks and dip them in lemon juice and refrigerate.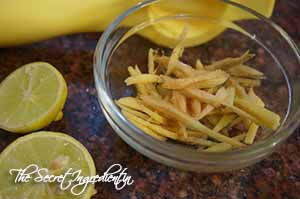 3. Peel the skin of potato and yam and dice them into cubes.
4. Slice a banana with the potatoes and yam.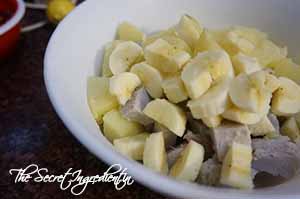 5. In a small bowl mix tamarind pulp, Lemon juice, chat masala , salt, red chili powder and sugar.
6. Pour it over the cubed potatoes and banana. Fold the sauce with the potatoes so that all cubes are evenly coated with tamarind sauce.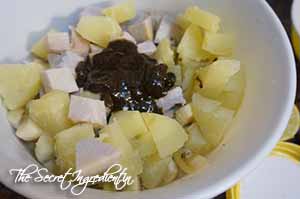 7. Add Pomegranate Pearls to the bowl along with fresh chopped coriander leaves and minced green chilies.
Transfer to a serving Bowl and garnish with refrigerated ginger pickle. Serve at room temperature.

[whohit]KachaluAlooChat[/whohit]